I'm trying to learn to use VPHOT instead of AIP4WIN. I am in awe of VPHOT's ability to plate solve and automatically find and apply comparison stars, but I cannot find any guidance on how to make VPHOT calibrate raw images (i.e. apply biases, darks, and flats). Obviously, I can do the calibration offline and upload the calibrated images, but there must be a better way. Can someone give me a pointer here? Also, VPHOT is not calculating the airmass of my observations (as AIP4WIN does), even though I think I am giving it all the information it needs to do so. Any ideas?
VPhot Calibration
Nathan:
VPhot is not set up to calibrate your images. It would need to store your (and other) users calibration images. All the observers calibrate their images locally and that is probably the easiest way. I happen to use Maxim to calibrate a batch of images after I collect them.
If you share one of your images with me (MZK), I can compare your fits header to one of my images to see what keyword might be missing for airmass. I just keep forgetting without looking it up again.
Ken
TA will handle airmass for you
Its a long pipeline of programs we pass our data through to get it into the WebObs!
If you apply your transformations with TransformApplier after you process your data with VPhot then TA will take care of any missing AMASS values (provided you supply your observering location!).
Yet another reason to have your data transformed for AID!
Cheers
George
AIRMASS via AstroImageJ
In the past I have had problems with the AIRMASS not appearing in my FITS headers for reasons unknown. So, I now use AstroImageJ (AIJ) to add that keyword, plus it will add a few others that are sometimes useful (esp. Helio centric Julian date).  If selected, it will also automatically plate solve using Astometry.net. It does a pretty good job, but does fail sometimes when their computers are really busy or the image has problems.
Whit Ludington
David,
Of course AIJ outputs
David,
Of course AIJ outputs ensemble magnitudes if you can find them in all the various flux headings in the tables.  Sorry if I give the wrong impression in my last email.
John(MJHA)
VPHOT calculates Airmass
If you have a missing Airmass (like I do when using my own equipment) you can find it out at looking at the report VPHOT gives you on the single image photometry. VPHOT does NOT, however, carry that forward to the report for a time series.
The example on the attached shot shows which  image was measured and this agrees with what I got using my spreadsheet, and subsequently submitted to AAVSO. Since VPHOT already has the Airmass, perhaps if we raise a point to get this carried over into the output file, it will happen the next time that VPHOT is reviewed.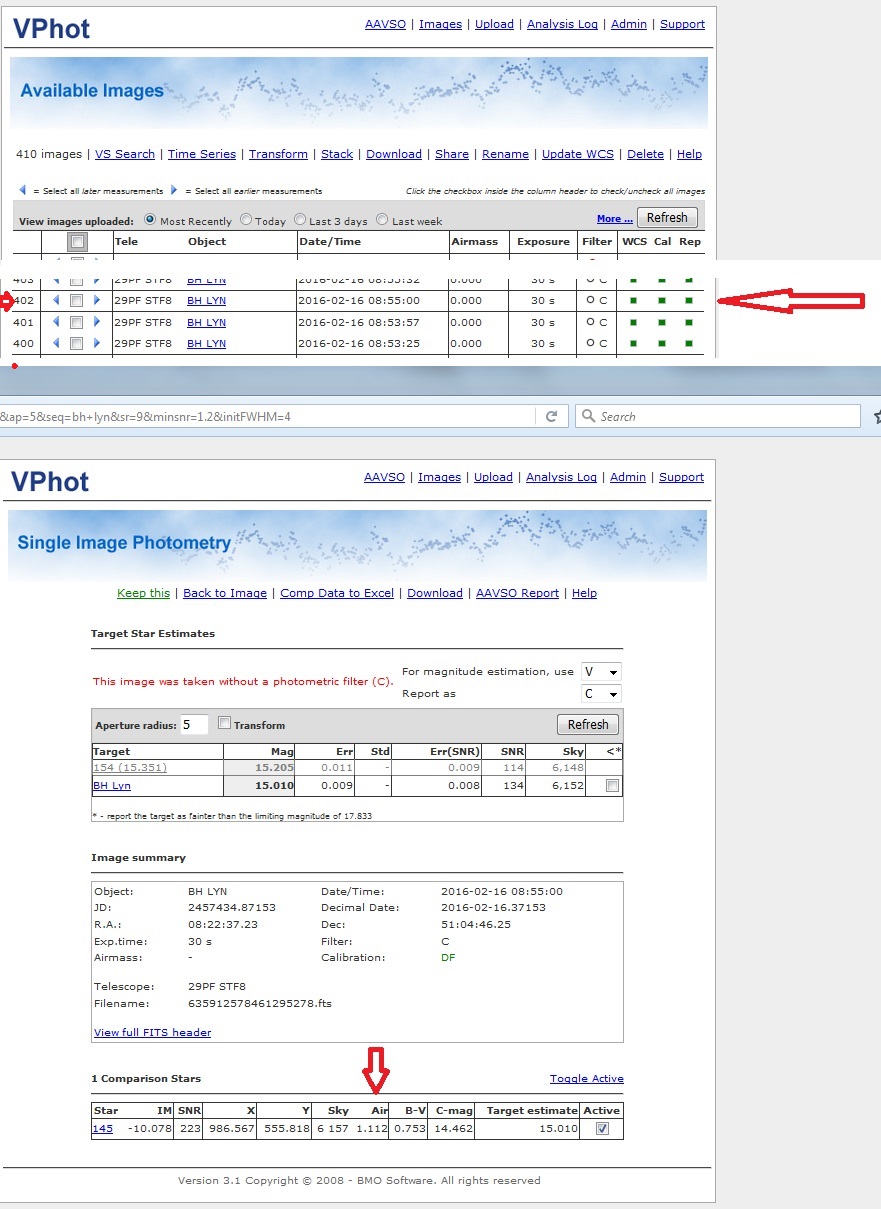 Vphot reporting too many decimals for Air Mass for WebObs
Hi
Reduced 2 nights of data and apparently, the number of digits past the decimal point for Air Mass has change from 3 as I remember, to 5 or 6.  WebObs will not accept this.  Is there somewhere that I need to reset this?  As far as I know, I did not change this.
WGR
Gary
VPHOT Home
Hi
Are there any plans to make VPHOT and the transform routines downloadable, so i can run them on my computer? Saves pushing a couple hundred images over the net. I could just send the transformed results to AAVSO.
Ray
I am using AIP4in 2.4    I do
I am using AIP4in 2.4    I do not see where it calculates airmass.  Can you tell me is it putting in on fits header...or is there a tool in the solftware that I am missing
Thanks
Mike